How To Find Health Shadowing Program And Opportunities
We know it is difficult searching how to find health shadowing program. Hello everyone, my name is Pranshul and I am one of the Biological and Health Sciences mentors at ReadyEdgeGo. In this blog, I will discuss one of the biggest topics in high school for students interested in health sciences, shadowing. When you hear this word, it may make you stressed as your peers may have shadowed but you haven't had a chance yet. First thing, do not be stressed if you haven't shadowed or don't get a chance to shadow in high school. The main reason for shadowing should not be to check another box for your application, but rather as an opportunity to explore if the career you are interested in is actually the right fit for you.
Health Shadowing Tips
During shadowing, you should act like a sponge. This isn't a chance for you to speak too much. (although, if you're asked a question or spoken to, don't be afraid to speak.). However mainly a chance for you to absorb knowledge and gain an understanding of what this profession is like on a day-to-day basis. This applies to all careers, not just healthcare. You should come out of your shadowing experience with a better understanding of whether you can see yourself in that role for the rest of your life!
With that being said, here are my tips to acquire shadowing experience, with an emphasis in healthcare fields.
Who Should I Reach Out To In Health Shadowing?
Shadowing in hospitals has changed significantly. (as did most things.) After COVID and it has become harder to find these experiences as hospitals have lessened their acceptance of high school students. With that said, make sure you reach out to clinics/offices that don't handle COVID patients. This mainly includes any health clinic that doesn't have urgent care or an emergency room. Think of your primary care physician's office. Most likely, they do not work in a large hospital and they are a great person to reach out to initially. Next time you are getting a physical or a check-up, bring up the idea of you shadowing them and see how they respond. Most likely, they will be happy with your interest in medicine. Another great resource is family or friends that are in healthcare and can get you in touch with people that are willing to take high school students.
Shadowing A Doctor. What If My Primary Care/Family Friends Say No?
Then it's time to start "cold-emailing." Perhaps ask any peers if they have had shadowing experiences and see if you can get contact information from them. Use Google and search for healthcare professionals in your area that mainly work in clinics and email them. You may have to send out 20-30 emails before you finally get a response. It is a tedious process, but worth it for that one response.
What Should I Do When I Get Into A Health Shadowing Program?
Make a good impression! Dress professionally (doesn't have to be a tuxedo, but don't come in jeans and a tank-top). Act professionally, don't make the doctor's day harder. You should act like a fly-on-the-wall, make it so you are observing them but not getting in their way, save questions for when they have time! And if possible, schedule a few days to shadow them. The more time you spend with the physician, the better idea you will have for if you actually like the profession!
Lastly, have fun! This should not be a stressful time but rather a chance for you to see if this is your passion. Do you want to spend the rest of your life in the position you are health shadowing? Do not feel as if you have to shadow during high school, it doesn't hurt if you do or don't. But, it is expected that you shadow at least one doctor in undergrad if medicine is your path in biological sciences that you wish to pursue!
About ReadyEdgeGo
We specialize in youth mentorship and college counseling. From 8th grade to 12th, we have you covered for any stage in your high school career. We also have great
summer programs.
Also summer health shadowing programs for you in correlation with many of today's top universities. Schedule a free consultation with us
here
. We are always posting more helpful tips and tricks to help reduce the stress of college application season. Follow us on
Facebook
,
Twitter
,
Instagram
,
YouTube
, and
LinkedIn
. See you soon!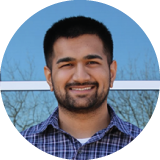 Pranshul Goel
ReadyEdgeGo Mentor – Biological and Health Sciences