Podcast: Play in new window | Download
Hi, my name is Liz. I am one of the counselors here at ReadyEdgeGo. My area of expertise is visual and digital arts. I am currently in my second year of teaching visual arts subjects at high school and middle school levels. Art has been a passion of mine ever since I was a little girl. I was always encouraged by my parents to explore my creative side. My love for art grew because my mom has always been a very creative person. Growing up, she would always have some kind of camera with her whether it was a Polaroid or a disposable one.
Photography was by far her favorite hobby and she inspired me to learn more about visual arts. I enjoy seeing parents encourage their children to explore their creativity. I believe exposure to visual arts at a young age can help students develop an appreciation for art. Even learning about the history of art can allow students to develop an interest in art. I actually never took any art classes outside of school when I was growing up. The art classes I would take in school were just basic painting, drawing, and ceramics. My creative side started at home. I always loved to draw, color and paint. I spent my entire high school career thinking about what I wanted to go into. The high school I went to had these little groups called academies. I joined the arts one of course and within the four years that I was in high school, I was able to take various art courses and learn more about art overall. It wasn't until college that I realized that I loved teaching art. My professors really inspired me to go into teaching. One of my professors was hired to work for National Geographic magazine to travel and take pictures while at the same time he was a college professor teaching intro to studio lighting and other photography classes. He really inspired me to go into teaching.
It makes me very happy that they added arts into the STEM acronym. Art is a big part of learning. Even for subjects like science and math, having visuals is very helpful for certain students especially those that perhaps have learning disabilities or difficulty with reading numbers and words. Having a visual within those subjects can be very helpful for a lot of students and a lot of students express themselves through creativity. The arts in the education system have definitely evolved ever since I was a kid up until now. High schools now offer a great range of art courses. Because of that, I highly encourage students to take at least 4-5 different art courses in high school. Learning how to make art is like learning a whole new skill. The possibilities are endless. With the development of technology, there are things like digital painting, digital drawing, and digital design. Everything is now digital which has made it so much easier for students to learn the skill of art. Art is also pretty well-rounded when it comes to careers. Anyone could go my route and be a teacher and have students create, but there are also other careers such as character design, animation, and game design. All those careers are very popular now especially with how much the gaming and entertainment industry has evolved. Another wonderful career within the arts is 3-D modeling. 3-D modeling is very well rounded and it's used not just within art but for engineering, industrial design, and even the medical field. It's definitely a degree in the arts that is very well-rounded. Note that getting an art degree is very hands-on. For students who are interested in getting into art, I recommend going to art shows and local galleries. Start by searching up if your city has any museums or upcoming gallery exhibitions. A lot of the time, you might even get the chance to meet the artist and ask any questions regarding their creative process. This is a great way to learn about the process it takes to put together an exhibition. It's also highly encouraged to do internships whether that is at a museum, with a photographer, or assisting an artist. Most assisting jobs can start in high school. Assisting an artist consists mainly of helping the artist set up, shadowing, and helping in big projects. That's how you get the best experience within the art field, everything is very hands on. We specialize in youth mentorship and college counseling. From 8th grade to 12th, we have you covered for any stage in your high school career. Schedule a free consultation with us
here
.
We are always posting more helpful tips and tricks to help reduce the stress of college application season. Follow us on Facebook, Twitter, Instagram, YouTube, and LinkedIn.
See you soon!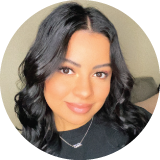 Liz Robles
ReadyEdgeGo Mentor – Visual Arts